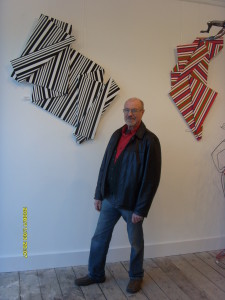 After spending several years in the Printing and Graphic Arts industry, from shop floor to Senior Management, I was made redundant during the Thatcher years. Rather than continue in the job market rat race I grabbed the opportunity to pursue my long term interest in Art taking various courses until I was able to take a degree at Norwich School of Art and Design in Fine Art Sculpture.
I have experimented with a variety of materials for making sculpture, welded steel, plastics, bronze casting, wood carving, always on a voyage of discovery, dealing with all the problems the illusory idea throws up as a practical reality. From this working experience I have developed a concept of using colour and design to suggest movement and using the basic material against its natural properties.
The current batch of work pursues the impracticability of folding wood as if it were paper so the work has to maintain a plasticity and lightness to achieve a telling result. My other source of interest is Life Drawing, I think it is an essential for the artist to stay in touch with the core value of observational drawing and the discipline it involves.